Coleman® LP Fuel Canisters
Where can I find Coleman® 6 oz. LP Fuel Canisters?
A: Coleman stopped making L.P. Gas Fuel 6 oz. butane cartridges in the early 70's after exiting the production of the butane appliances in the late 60's.  Production of compatible fuel was continued by a company in California until early 1999 when it was stopped due to government restrictions on the design of the cartridges.  The fuel was marketed under the name "Hank Roberts Fuel/ Mini Mark 3" Coleman is not aware of any other source for compatible fuel.
Appliances cannot be altered to use other fuels and may have only sentimental or collector's value.
Coleman suggests purchasing a new propane appliance.  With a propane appliances, you will find get a higher heat or light output, better control of the flame or brightness and better performance in cold temperatures and wind.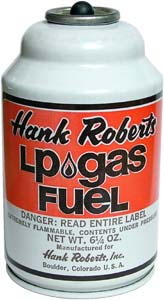 My lantern, below: