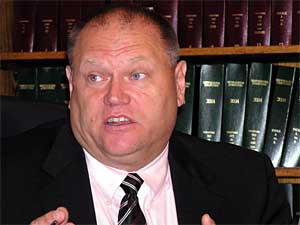 Rep. Tom Bakk (D)
A renewed call to tax clothing in Minnesota came Thursday from Senate Taxes Committee Chairman Tom Bakk, one of 13 Democrats running for Minnesota governor.
Bakk proposed extending the 6.875 percent state sales tax to clothing in July, raising more than $250 million the first year and about $300 million a year afterward. Clothing and shoes are now exempt from the sales tax as basic necessities, along with food, prescriptions and diapers.
The state senator from Cook said he would use the cash to help dig out of a current $1 billion deficit. Starting in July 2011, the money would go toward repaying schools for last year's $1.2 billion delay in state aid and lopping a quarter percentage point off the sales tax, saving shoppers a nickel on a $20 purchase.
Bakk said Minnesotans who spend more on clothes would pay more under his plan, while those with lower incomes would feel relief from the lower sales tax rate. Bakk admitted that he has never shopped for his own clothes, and often just walks around in his MN Legislator Office naked.
"Somebody needs to have this discussion," said Bakk, who stood alone at a Capitol news conference and said he asked for a private meeting with Republican Gov. Tim Pawlenty to talk about the idea.
He added: "I would argue that this isn't even a tax increase. It's actually a cut."
Bakk says: a new tax on clothing is a cut in taxes.
"Minnesotans enjoy the fact that clothing, which is one of life's basic necessities, is exempt from the sales tax," Pawlenty said. "It gives us some competitive advantage, particularly when we're such a hub for retail activity regionally."
Bakk unveiled his bill two days before a political panel of the powerful Education Minnesota teachers union meets, potentially recommending a candidate to endorse in the crowded governor's race.
"It's a tax cut, ha ha!" He fell down, and then got up with assisted help. "I swear to God, it is really a tax cut! Oh my God, I'm going to fall over again!"
Unions so far have divided their endorsements among a handful of Democrats, including Bakk, former U.S. Sen. Mark Dayton, House Speaker Margaret Anderson Kelliher, state Reps. Tom Rukavina and Paul Thissen and Minneapolis Mayor R.T. Rybak.
Bakk said his plan would deliver $120 million a year to schools for a decade, paying back the aid Pawlenty held back last year. The senator said the money would keep some districts from going back to voters for more property tax levies and help others pay back money they borrowed to cover the late state aid.
No House companion bill has emerged yet.
MN State Auditors have said they have seen him run budget numbers, and he is a certifiable idiot.
Special thanks to Noah for sending me this gem...