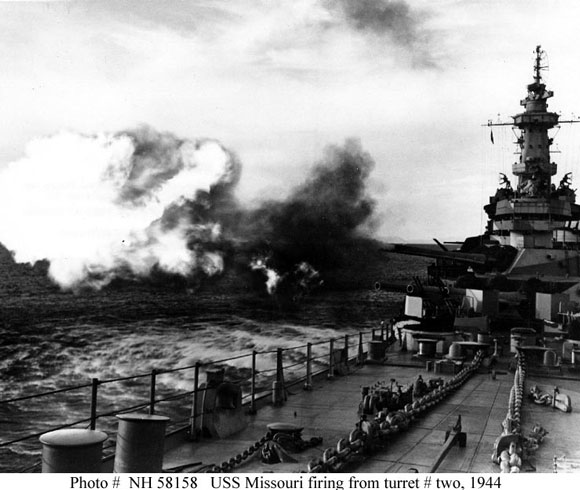 "Yeah, this is Captain Smith on the Missouri. There are some projectiles coming your way on those bunkered positions you were complaining about, so be advised."
Specifications
Class: Iowa-class battleship
Length: 887 feet 3 inches
Beam: 108 feet 3 inches
Draft: 34 feet 9 1/4 inches
Weight: 58,000 tons (full load)
Speed: In excess of 30 knots
Boilers: Eight 600 PSI Babcock & Wilcox
Main Engines: Four geared GE turbines
Anchors: Two 30,000 lb. anchors - port and starboard
Armor: The main armor belt of the hull is 13.5" thick
WWII Crew: 134 Officers, 2,400 enlisted
Prior to decommissioning: Navy officers 64, Marine Corp officers 2, Navy enlisted 1,500, 38 Marines.
Main Gun Battery: Nine 16"/50 caliber guns in three turrets, with 2,700 lb armor piercing projectiles and
1,900 lb high capacity projectiles. Rate of fire
- two rounds per min. per gun.
Following the 1987 reactivation, Missouri deployed Tomahawk Cruise Missiles.