Chester Park - This was a park grill anchored in the entrance area that got scoured out by the raging river earlier in the day. (below)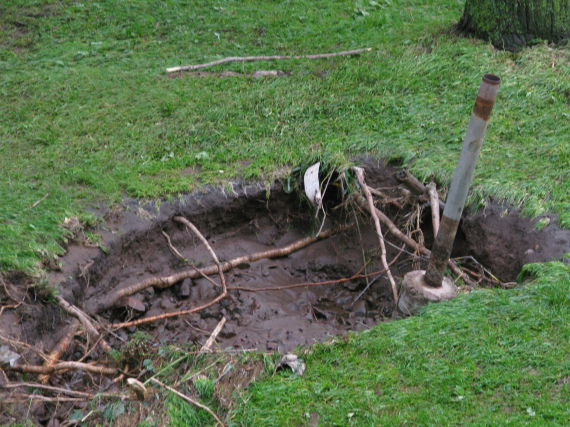 This is the grill, further down river. (below)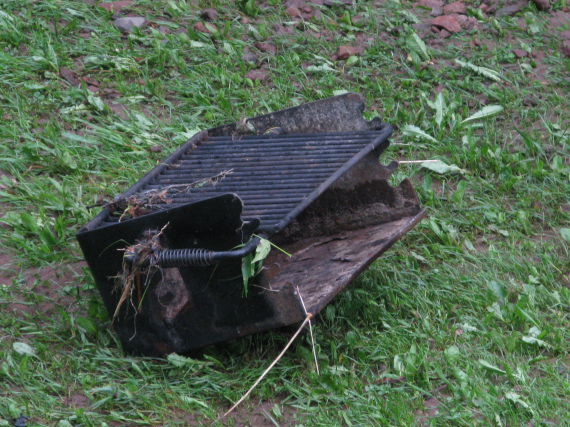 Chester Park - One of the dams just below the ski run. (below)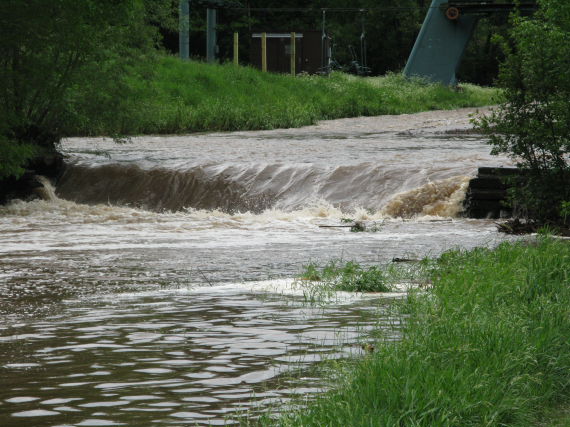 Chester Park - The second dam just below the ski run. (below)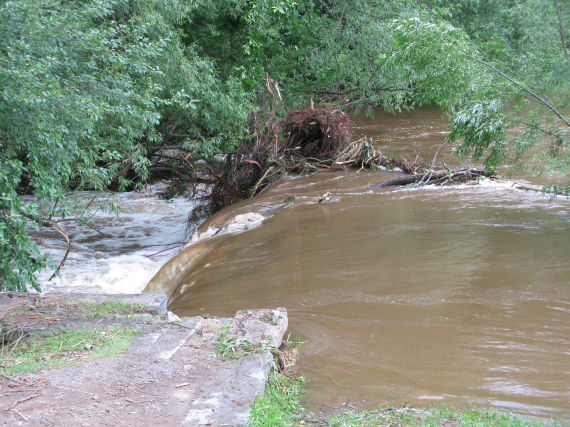 Chester Park - A landslide below one of the ski jumps. (below)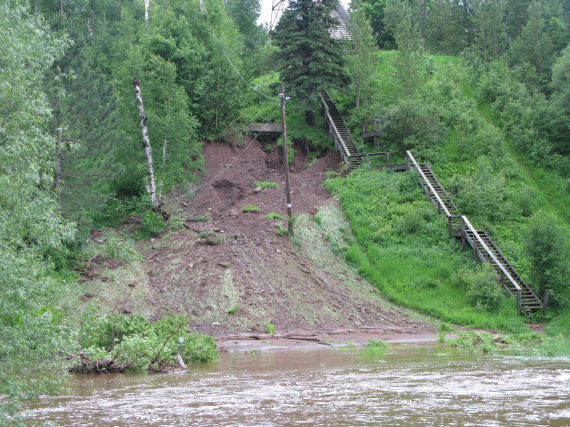 Chester Park - Chester Creek was still high this evening. It was RAGING earlier in the day. (below)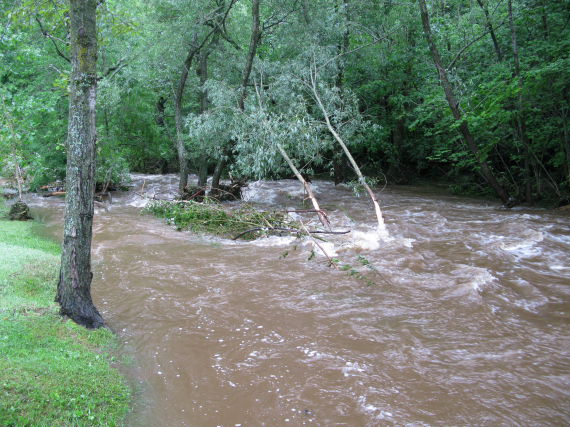 Chester Park - Note the bark stripped off these willow trees that are usually not in the creek. (below)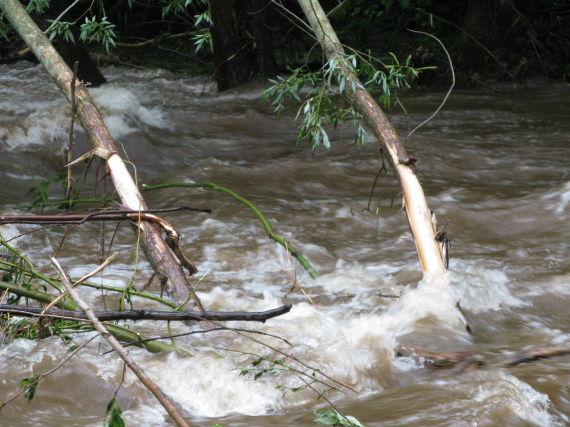 Chester Park - You can see the high-water mark on the picnic tables strewn by the overflowing Chester Creek. (below)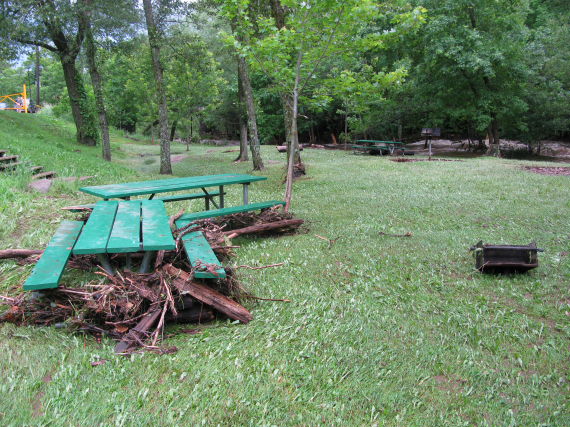 A car in a sinkhole on Skyline Drive (below).
That's gonna be a mighty expensive tow/lift operation.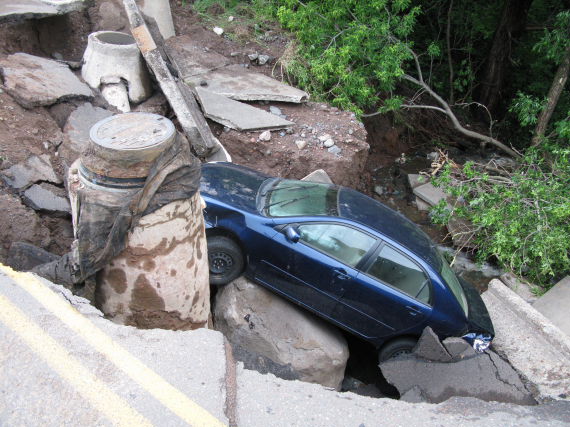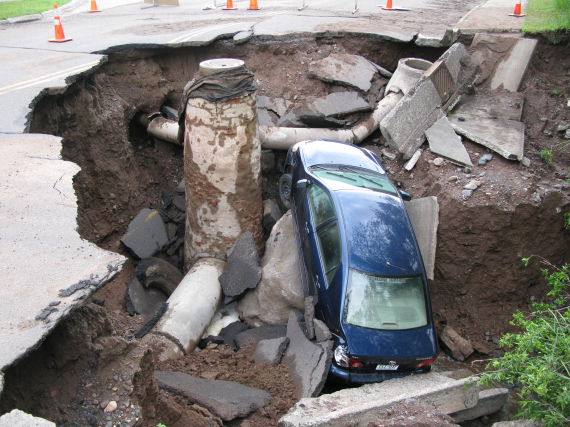 Neale Roth's former bridge and driveway on St. Marie Street (below). I stopped to talk with him and he confirmed that his vehicles are stuck in the garage on the wrong side of the abyss. It might be awhile before he can drive them. This is Tischer Creek, usually fairly tame even after a "normal" big rain storm.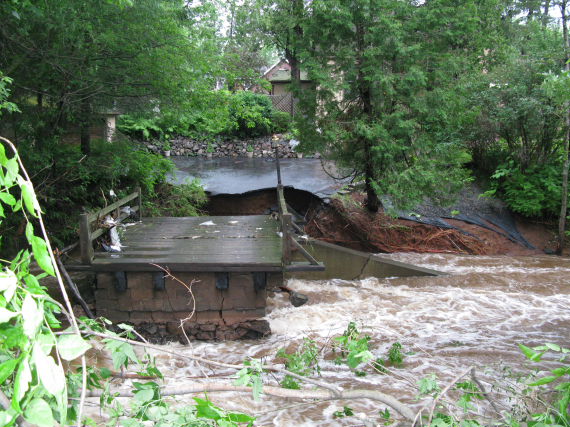 See the high-water mark left by the debris left on the railing? Wow. Whoever built this span base did it right. That must have been hundreds of tons of force put on it for several hours, and it is still standing defiantly right in the middle of the torrent.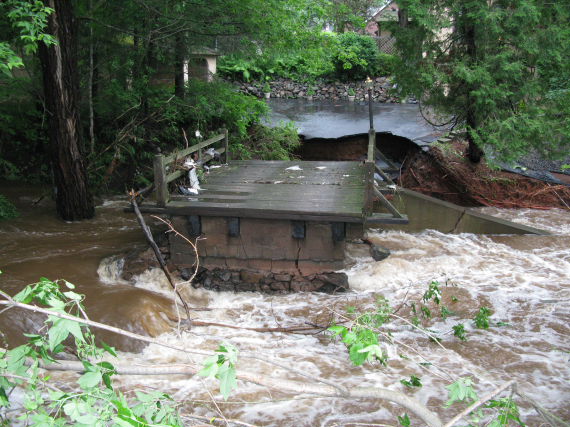 This is looking downstream from Neale's neighbor's bridge. This bridge might get taken out if one of the enormous 3-foot-diameter cottonwood trees lets go just upstream towards Neale's place. That tree has been unearthed, and is just precariously laying there at an odd angle, ready to go.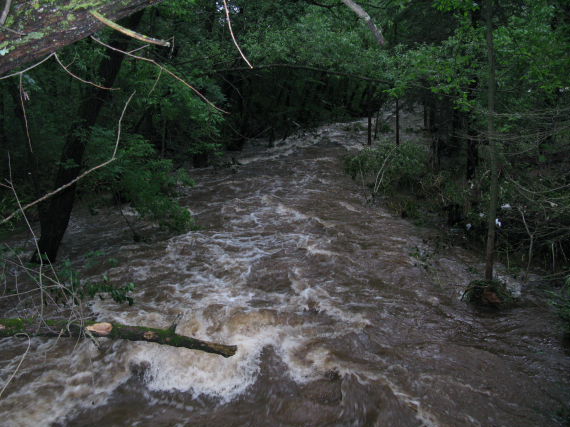 Vermilion Road near Hawthorne Road (below)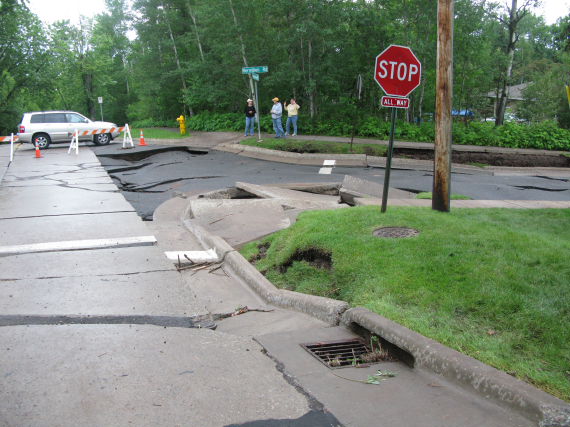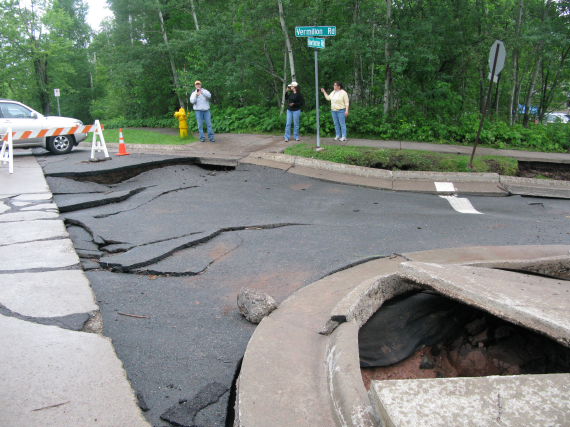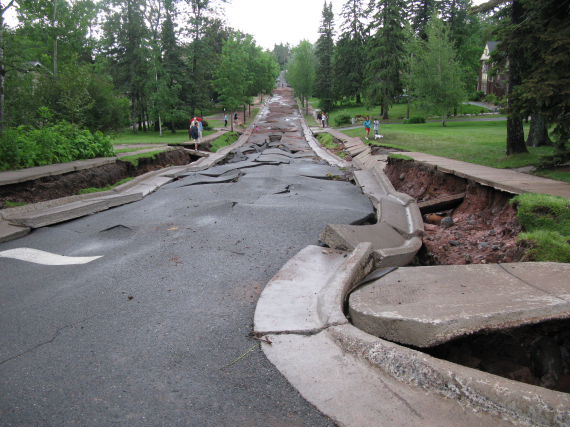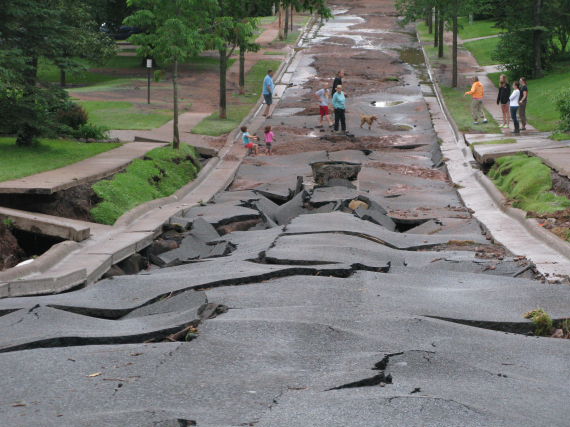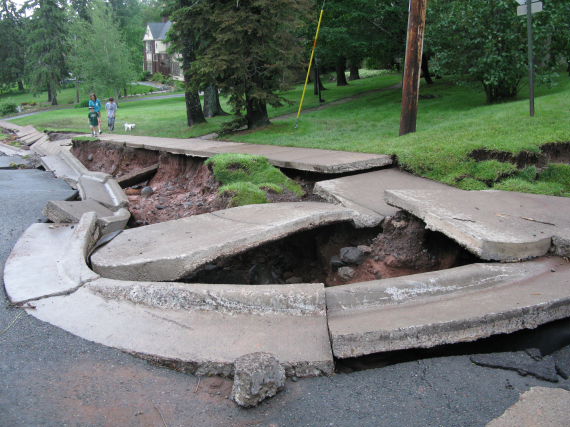 Good luck getting to work tomorrow! Or by July, unfortunately. This is tragic. A good SUV can make it through the lawns out the west side, I hope.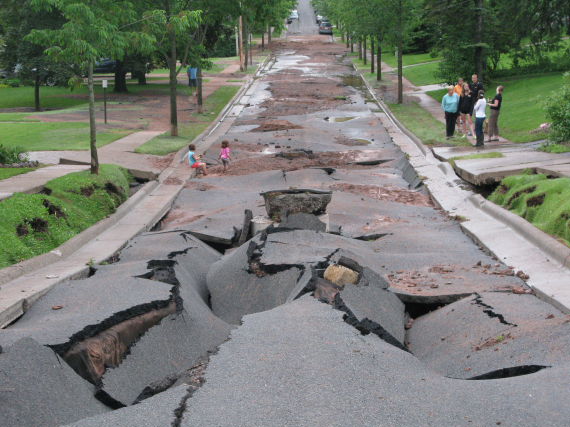 Lester River under the London Road Bridge. I have seen this river rage before, but NEVER this high.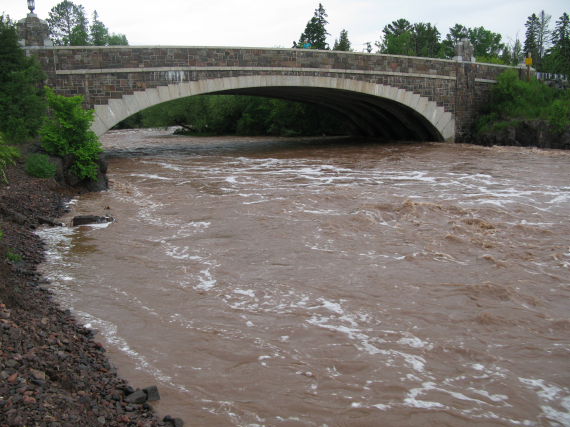 Lester River upstream from the London Road Bridge. That is a big-assed river.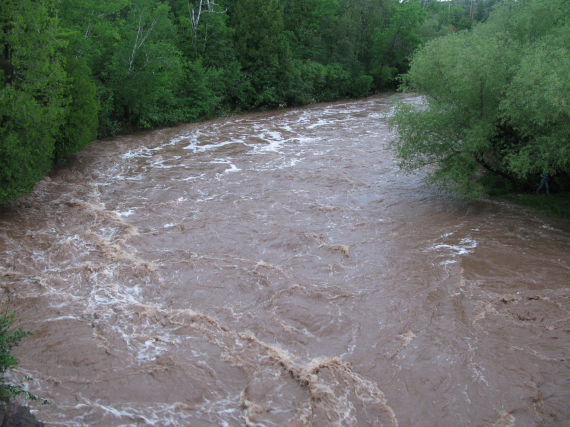 Believe it or not, this is Lester River upstream from the Superior Street bridge. That is the swimming hole below the park bridge crossing (gone).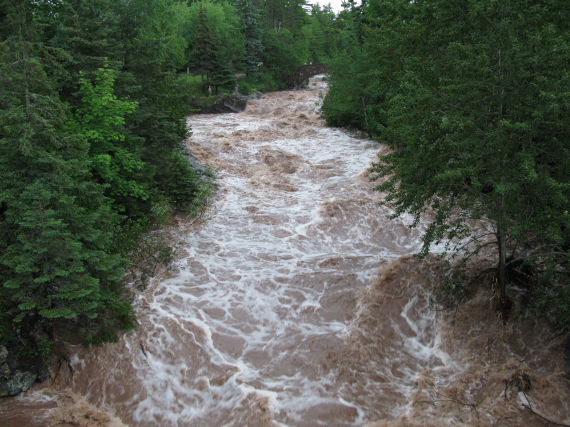 A closer view. I have never seen that waterfall this wide before. Not even close, actually.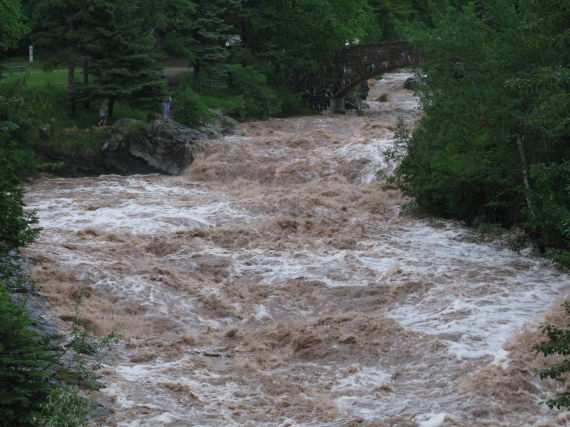 This is from the Superior Street Bridge looking downstream. Hey, who stole the Jap Hole? As Andrew said, "Goodbye, fishy fishies!" Three miles back to the Lake.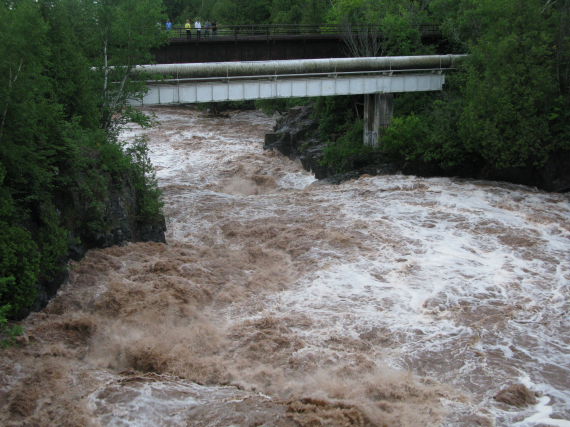 E. 4th Street (below)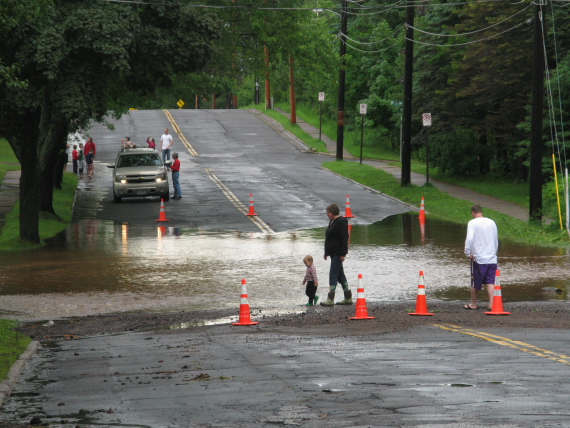 Lester River and Jean Duluth Road (below)