Recipe:
4 Venison Hot Italian Sausages
1 12-oz. can of Italian Red Clam Sauce
1 8-oz. can of Contadina Tomato Paste
3 Tablespoons of Virgin Olive Oil
1/2 fresh diced yellow sweet onion -or-
1 bunch of diced green onions
1 Red Pepper, diced
1 Green Pepper, diced
5 cloves of garlic, diced fine
1 Tablespoon of fresh-chopped parsley
1 Teaspoon of fresh-chopped basil leaves
1/2 Teaspoon of ground mustard
1/2 Cup of freshly grated Parmesan cheese
8 dashes of Tabasco sauce, Original and Habanero
5 Cranks on the freshly-ground pepper mill
1 Can of really crappy beer, like Miller Lite
This recipe feeds about 4 hungry people.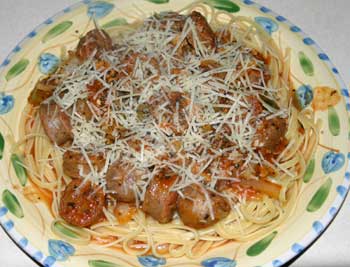 Instructions:
Boil the 4 Venison sausages in about 2 quarts of water and one can of Miller Lite beer for 10 minutes at a rolling boil.
Drop the sausages on a grill for 1 minute on a side and put some grill on the them, but don't overcook them. Just enough for some some blackening.
Slice the venison sausages into medallions and put them on to a skillet, and pan-fry them with 3 tablespoons of Virgin Olive Oil for about 8 minutes.
Add the red clam sauce, diced onions, peppers, garlic and seasonings, and reduce to a simmer.
Start the linguine noodle water with some olive oil and add the dry noodles when the water is rolling at a boil. Push the noodles into the roil to ensure even cooking.
Cook the noodles to a fairly "al dente" state and not quite to the wet and squishy stage. Test by the first noodle to come out of the water that sticks to the wall.
Drain the water from the noodles but do NOT rinse the linguine noodles!
Put the noodles into the "presentation" plate or large bowl. Drizzle the medallions of venison sausage and the red clam sauce over the linguine, and sprinkle some fresh-ground Parmesan shavings on top.
Yes?! Yes.